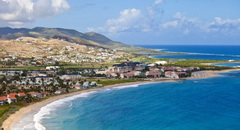 Its strategic location made Saint Kitts a colonial hotspot and a focus point of European nations in their struggle for power over the West Indies islands. The colonial settlers rapidly expanded sugar plantations and imported African slaves, thus laying the foundations for the islands' colourful culture. Festivities, crafts and other displays of that culture are among the islands' main tourist attractions now, as are the ruins of the many plantations. The Scenic Railway, travelling on the tracks of the old sugar train railway, is a great way to see the best of them. However, nothing makes the islands' history as tangible as the impressive and well preserved remains of the Brimstone Hill Fortress. It's both a national park and a UNESCO World Heritage Site and provides some stunning views over the surrounding area and even some nearby islands. Only a few ruins and some cannons remain of Fort Charles on Nevis, the fortifications of Charlestown.
Basseterre is a pleasant place and has a view sights, including St. George's Anglican Church and Indepence Square, once the site of the slave market. The impressive 1894 Old Treasury building, originally the gateway to Basseterre, is an important historic sight but also houses the National Museum with expositions on the history, identity and independence of the island.
The islands' countryside is lovely, with panoramic views of green hills covered in rain forest as well as beaches and of course the bright blue sea. The main road circling the island will take you to most points of interests, some great beaches and several villages. The hike up Mount Liamuiga, a dormant volcano on St. Kitts and the highest peak of the islands, is particularly popular and worthwhile for the great views from the top.
Diving
Diving sites are ample and gorgeous, serving both beginning and experienced divers. Of course there's a broad and colourful range of reefs and sea life to see, but also ship wrecks and caves. For beginners, the Monkey Shoals and Friars Bay Reef are good and easily reachable sites. Sandy Point is a National Marine Park for its beautiful coral heads and magnificent sea life. The Wreck of River Taw, M.V. Talata Wreck and the more recently sunk Wreck of the Corinthian are popular sites. Turtle Bar is of course famous for the many turtles that roam the site, but you'll also commonly spot them at Frigate Bay Reef. For more experienced divers, the strong currents at Nags Head are a nice challenge, and the broad range of fish at Aquarium is a good spot.