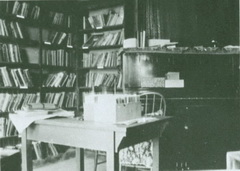 The evolution of the St. Kitts Public Library can be said to have parallel the socio-economic pattern of the country. The St. Kitts public Library had its origin in the private subscription clubs which began in 1818. Books and magazines were provided for members only. By ordinance 4 of 1890 the governor Sir William Haynes-Smith was authorized to establish a Public library in Basseterre and one in Charlestown. The Library at that time was managed by a Board of Directors.
The first Chairman was the Hon G. C. Johnson and the clerk, Ms. E. Burt. At that time a government grant of £100 annually was awarded for running of the Libraries. In 1911, when Nevis was made an independent concern, the grant was divided between both libraries. Reading clubs were also established in the rural districts. One of the first to be set up was the Cayon Reading Club in 1932. Since then the Public Library has had book depots in Cayon, Lodge, Molineux, Verchilds, Saddlers, Dieppe Bay and Sandy Point. 1894, the Library was housed on East Independence Square.
In 1982, a fire destroyed the entire building. From 1985-1997, it occupied the premises at Shirley house, Mitchell street and in August 1997 found permanent residence in a new building at Cunningham street.