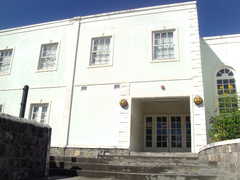 Address :
Cunningham Street, Basseterre, St. Kitts
Telephone:
(869) 465 2384
Email:
publib@sisterisles.kn
The aim of the C. A. H. Public Library facilitates the promotion and diffusion of knowledge and Information by acquiring making available to the community books and other materials.
The Charles A. Halbert Public Library is the main library in Saint Kitts and Nevis. In 1982 a fire destroyed the entire building. After a number of years in a temporary setting it moved into a new permanent setting in 1997.
The Federation of Saint Christopher and Nevis also known as the Federation of Saint Kitts and Nevis, is a two-island country in the West Indies. Located in the Leeward Islands, it is the smallest sovereign state in the Americas, in both area and population. The country is a Commonwealth realm, with Elizabeth II as its head of state.
The capital city is Basseterre on the larger island of Saint Kitts. The smaller island of Nevis lies about 2 miles (3 km) southeast of Saint Kitts across a shallow channel called "The Narrows."
The British dependency of Anguilla was historically also a part of this union, which was then known collectively as Saint Christopher-Nevis-Anguilla. To the north-northwest lie the islands of Sint Eustatius, Saba (the Netherlands), Saint Barthélemy, Saint-Martin/Sint Maarten and Anguilla. To the east and northeast are Antigua and Barbuda, and to the southeast is the small uninhabited island of Redonda, and the island of Montserrat, which currently has an active volcano (see Soufrière Hills).
Saint Kitts and Nevis were among the first islands in the Caribbean to be settled by Europeans. Saint Kitts was home to the first British and French colonies in the Caribbean, and thus has also been titled "The Mother Colony of the West Indies."